Bresser Pirsch 20-60x80 45° Spotting Scope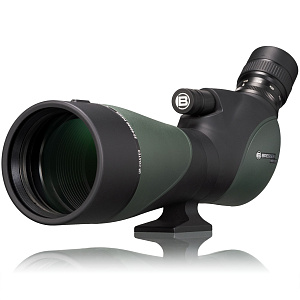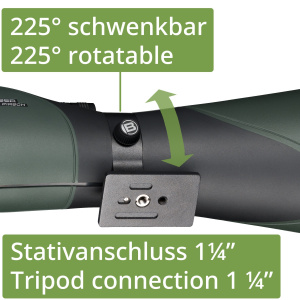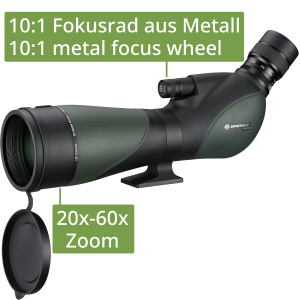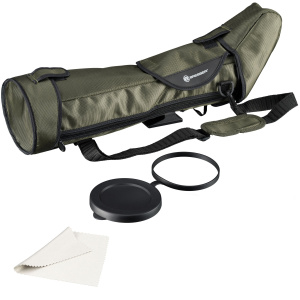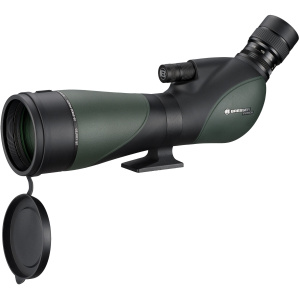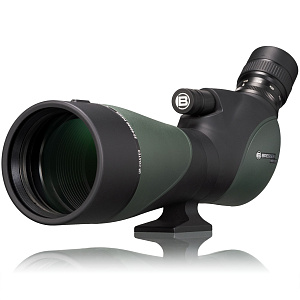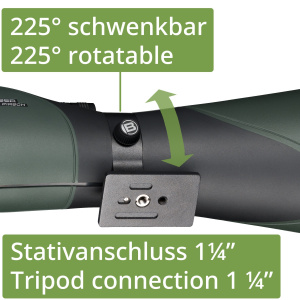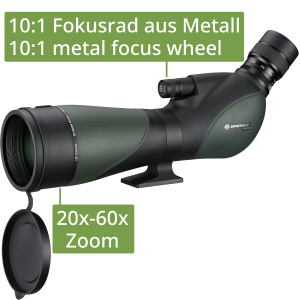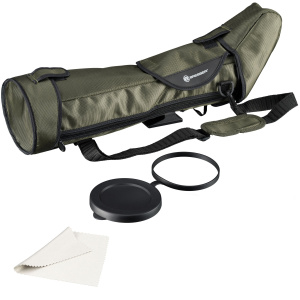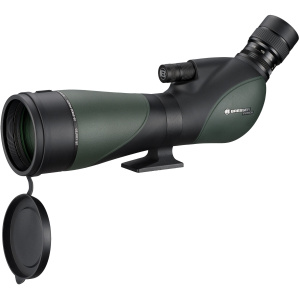 Waterproof. Magnification: 20–60x. Objective lens diameter: 80mm
The Bresser Pirsch Gen II spotting scopes are primarily intended for nature observers and hunters. Equipped with a light-intense, fully broadband multi-coated 80 mm lens, they allow higher magnifications even at twilight. This spotting scope is also equipped with the high-quality UR coating for brighter images. Together with the waterproof and nitrogen-filled housing and the non-reflective armouring, nature observers can determine e.g. bird species in any weather or hunters can target game even at long distances.
Photography
But also friends of digital photography will find a reliable tool in the Pirsch series: together with the DSLR adapters 74438 or 73741 almost all digital cameras or smartphones can be connected.
Robust materials
The focus and eyepieces are made of sturdy metal for a long-lasting pleasure with the Pirsch spotting scope. The rubber armouring is manufactured to ensure a firm grip.
Compensation
The Pirsch spotting scopes of Gen. II are all equipped with the new UR coating. This special coating ensures better light transmission and therefore provides a bright image even in difficult lighting conditions.
10:1 DeLuxe focusing
An important factor in optical devices is optimal focusing. Here, we at Bresser have paid great attention to fast and easy focusing as well as very precise focusing. Thus, the focus of the Pirsch spotting scope can be adjusted quickly and down to the last cm. This is ensured by the 10:1 ratio of the focus.
Waterproof and nitrogen filled
All Pirsch models are waterproof and nitrogen filled. So you have the perfect companion with you in all weather conditions. Rain or fog does not matter to the device. Fogging from the inside in case of large temperature differences is prevented by the nitrogen filling and thus ensures that the device is always ready for use.
Features:
Zoom perspective
slanting view
fully multi-coated optics
UR coated optics
very high light collecting capacity
waterproof and nitrogen filled housing
The kit includes:
Spotting scope
Ready bag for spotting scope
Instructions
Bresser Pirsch 20-60x80 45° Spotting Scope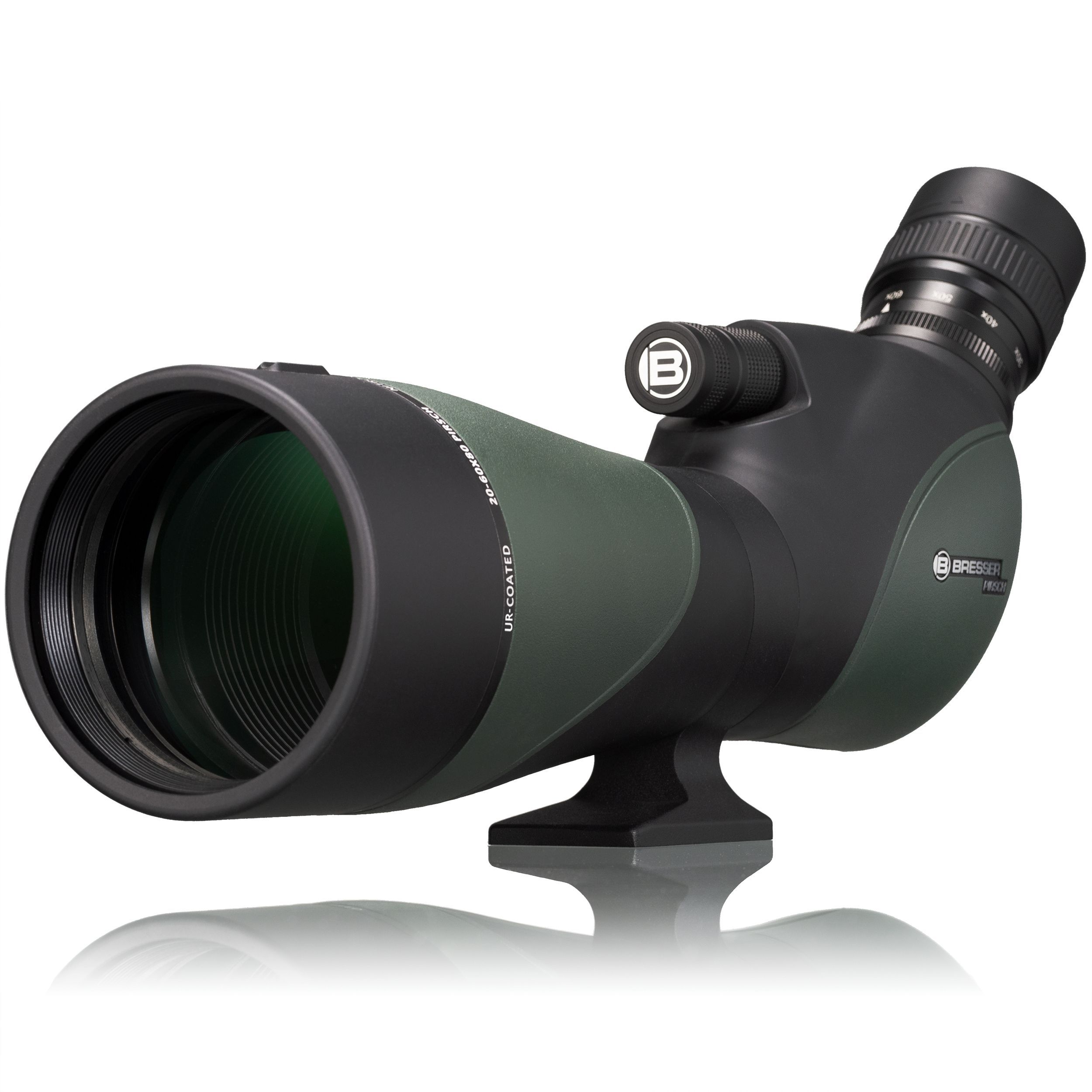 The Bresser Pirsch Gen II spotting scopes are primarily intended for nature observers and hunters. Equipped with a light-intense, fully broadband multi-coated 80 mm lens, they allow higher magnifications even at twilight. This spotting scope is also equipped with the high-quality UR coating for brighter images. Together with the waterproof and nitrogen-filled housing and the non-reflective armouring, nature observers can determine e.g. bird species in any weather or hunters can target game even at long distances. Photography But also friends of digital photography will find a reliable tool in the Pirsch series: together with the DSLR adapters
74438
or
73741
almost all digital cameras or smartphones can be connected. Robust materials The focus and eyepieces are made of sturdy metal for a long-lasting pleasure with the Pirsch spotting scope. The rubber armouring is manufactured to ensure a firm grip. Compensation The Pirsch spotting scopes of Gen. II are all equipped with the new UR coating. This special coating ensures better light transmission and therefore provides a bright image even in difficult lighting conditions. 10:1 DeLuxe focusing An important factor in optical devices is optimal focusing. Here, we at Bresser have paid great attention to fast and easy focusing as well as very precise focusing. Thus, the focus of the Pirsch spotting scope can be adjusted quickly and down to the last cm. This is ensured by the 10:1 ratio of the focus. Waterproof and nitrogen filled All Pirsch models are waterproof and nitrogen filled. So you have the perfect companion with you in all weather conditions. Rain or fog does not matter to the device. Fogging from the inside in case of large temperature differences is prevented by the nitrogen filling and thus ensures that the device is always ready for use. Features: Zoom perspective slanting view fully multi-coated optics UR coated optics very high light collecting capacity waterproof and nitrogen filled housing The kit includes: Spotting scope Ready bag for spotting scope Instructions