Sky-Watcher BK P2001EQ5 Telescope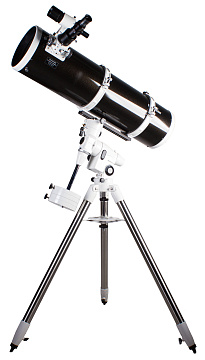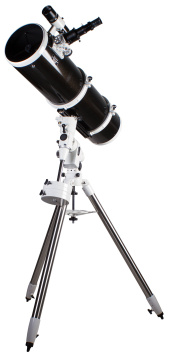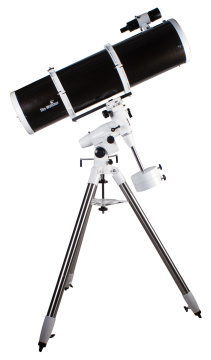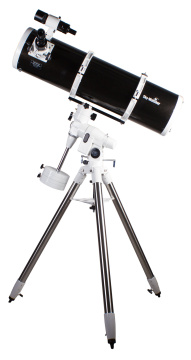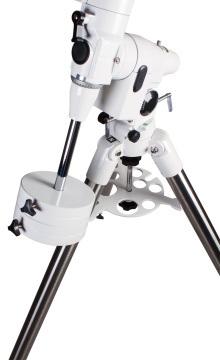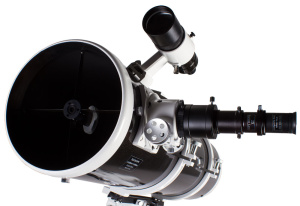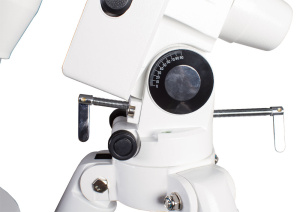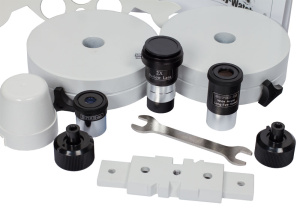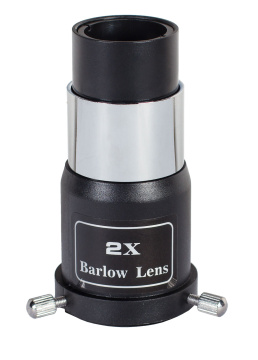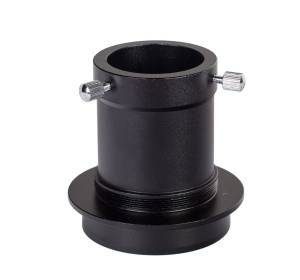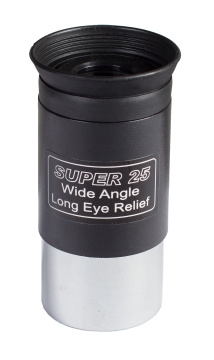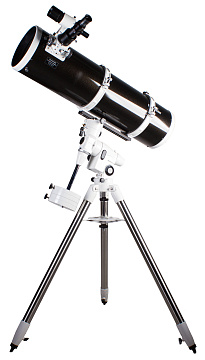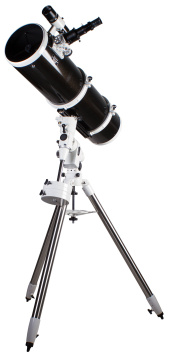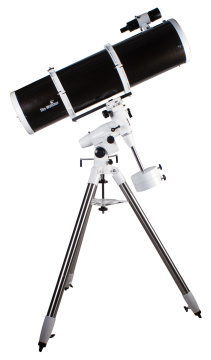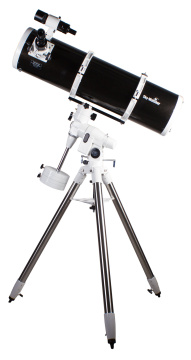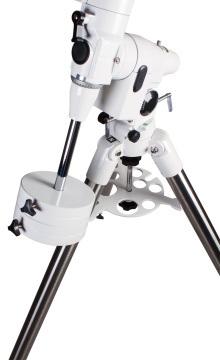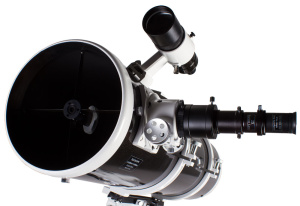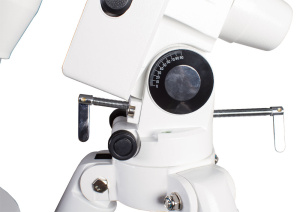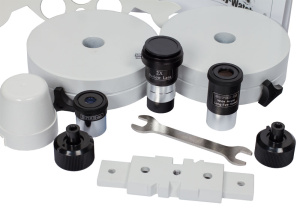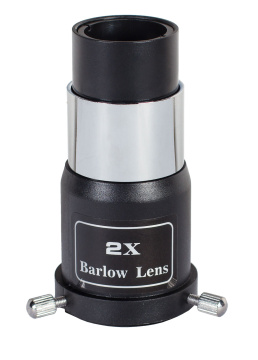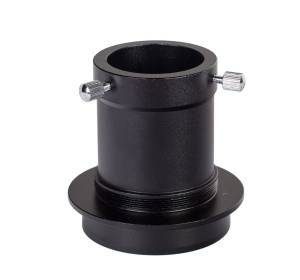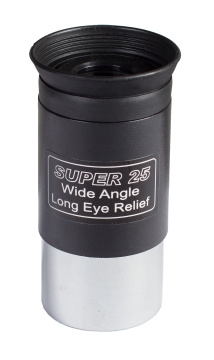 Newtonian reflector. Aperture: 200mm. Focal length: 1000mm
With a 200mm aperture, this telescope opens up new details in deep sky observing for the observer as compared to smaller telescopes. With 78% more light gathering ability compared to a 150mm telescope, even the delicate spiral arms of many galaxies and additional structures in other nebulae can be observed. Globular clusters, such as the famous M13 cluster in Hercules, can be resolved at their edges to a large degree. The parabolic primary mirror is diffraction limited, allowing sharp images of the object. The very high-contrast optics are optimised by the use of a small secondary mirror and thin secondary mirror spider vanes, allowing sharp and bright planetary observing even at higher magnification. The OTA has a solid 2-inch Crayford focuser for a low image shift focusing – of particular importance at high magnifications and for astrophotography. The use of 2 inch eyepieces allows the maximum possible field of view to be exploited. The telescope has an f/5 aperture ratio, putting it in the class of 'fast' Newtonian telescopes, so this telescope is particularly well suited to astrophotography.
The OTA is also visually a real gem, featuring an elegant design for the both OTA and finder scope in an aesthetically pleasing shimmering black.
The EQ-5 from the Sky-Watcher EQ series is one of the largest and most stable equatorial mounts. It reliably carries optics weighing up to 10 kilograms without shaking. The mount is an ideal basis for observing and for the first astrophotographs for the more experienced beginner. Ball-bearing axes and worm gears allow objects to be precisely manually tracked. For even more control, the EQ-5 can be retrofitted with a GoTo motor or an electronic polar finder.
The advantages in a nutshell:
Relatively high light gathering power thanks to 200mm aperture
Resistant to the effects of vibration and wind
Diffraction limited parabolic primary mirror
High-contrast image due to thin secondary mirror spider vanes and small secondary mirror
Well suited to astrophotography due to the 'fast' optics
The kit includes:
Telescope optical tube
EQ5 equatorial mount
Tripod with an accessory tray
8x50 optical finderscope
Super 10mm and 25mm (1.25") eyepieces
2x Barlow lens
2"–1.25" adapter
Extension tube
User manual and warranty
Sky-Watcher BK P2001EQ5 Telescope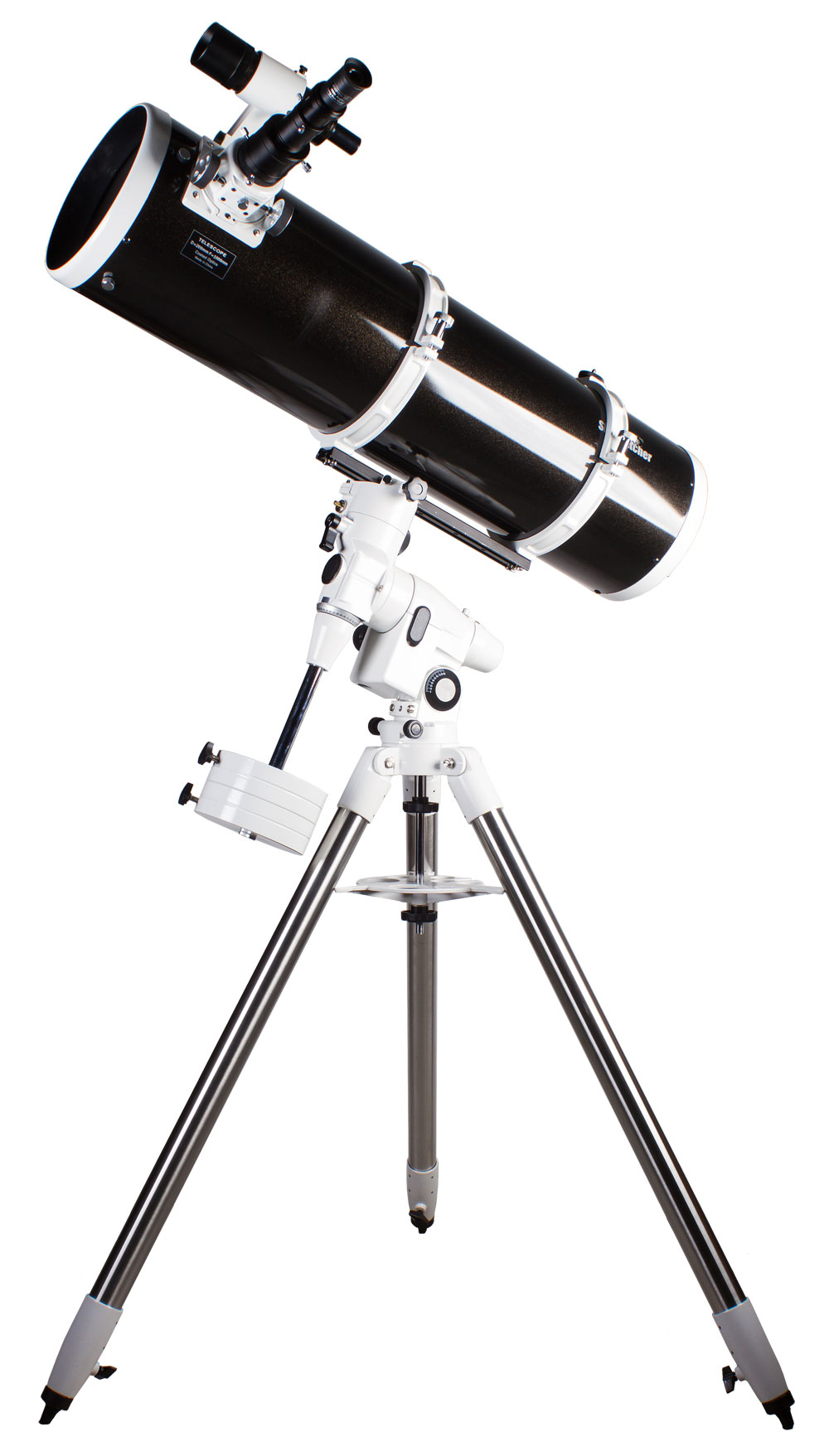 With a 200mm aperture, this telescope opens up new details in deep sky observing for the observer as compared to smaller telescopes. With 78% more light gathering ability compared to a 150mm telescope, even the delicate spiral arms of many galaxies and additional structures in other nebulae can be observed. Globular clusters, such as the famous M13 cluster in Hercules, can be resolved at their edges to a large degree. The parabolic primary mirror is diffraction limited, allowing sharp images of the object. The very high-contrast optics are optimised by the use of a small secondary mirror and thin secondary mirror spider vanes, allowing sharp and bright planetary observing even at higher magnification. The OTA has a solid 2-inch Crayford focuser for a low image shift focusing – of particular importance at high magnifications and for astrophotography. The use of 2 inch eyepieces allows the maximum possible field of view to be exploited. The telescope has an f/5 aperture ratio, putting it in the class of 'fast' Newtonian telescopes, so this telescope is particularly well suited to astrophotography. The OTA is also visually a real gem, featuring an elegant design for the both OTA and finder scope in an aesthetically pleasing shimmering black. The EQ-5 from the Sky-Watcher EQ series is one of the largest and most stable equatorial mounts. It reliably carries optics weighing up to 10 kilograms without shaking. The mount is an ideal basis for observing and for the first astrophotographs for the more experienced beginner. Ball-bearing axes and worm gears allow objects to be precisely manually tracked. For even more control, the EQ-5 can be retrofitted with a GoTo motor or an electronic polar finder. The advantages in a nutshell: Relatively high light gathering power thanks to 200mm aperture Resistant to the effects of vibration and wind Diffraction limited parabolic primary mirror High-contrast image due to thin secondary mirror spider vanes and small secondary mirror Well suited to astrophotography due to the 'fast' optics The kit includes: Telescope optical tube EQ5 equatorial mount Tripod with an accessory tray 8x50 optical finderscope Super 10mm and 25mm (1.25") eyepieces 2x Barlow lens 2"–1.25" adapter Extension tube User manual and warranty