Sky-Watcher Dob 76/300 Heritage Tabletop Telescope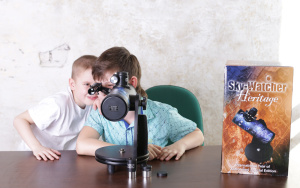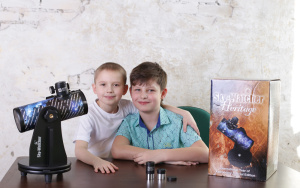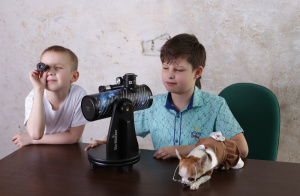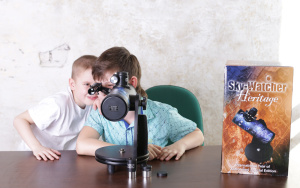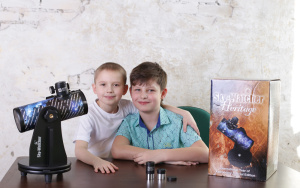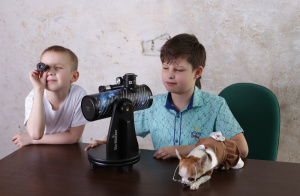 Newtonian reflector. Primary mirror diameter: 76mm. Focal length: 300mm
Sky-Watcher Dob 76/300 Heritage – a telescope for your journey out into the universe
Is an adventure in outer space appealing? Then simply use the Sky-Watcher Dob 76/300 Heritage to go on a journey through our solar system. It will lead you past the Moon, to the gigantic planet Jupiter with its four large moons. Have a look at Saturn too – its ring system is definitely worth a trip. And after that? Space has even more to offer: discover nebulae located many light-years away, whether it's the Andromeda Galaxy or the Orion Nebula – a stellar nursery. Observing these also takes you into the past. But don't worry, you can return to Earth at any time! What do you need for this? Only a Sky-Watcher Dob 76/300 Heritage telescope!
A small but powerful telescope
Although the Heritage telescope is one of the smaller of its kind, all of the objects mentioned above can be seen. The Heritage is a Newtonian reflector with a mirror diameter of 76mm and a 300mm focal length. It gathers 117 times more light than the naked eye alone. Galileo Galilei looked into the night sky with a telescope over 400 years ago. But his telescope was nowhere near as good as this. So there is much more now available to see as 'just' the solar system. You can also now observe and admire so-called deep-sky objects – nebulae and star clusters.
Set-up and getting started
If you are new to astronomy, then the starting observing should be made as easy as possible. The Sky-Watcher Dob 76/300 Heritage is ideal in this respect. The telescope has a Dobsonian mount – an arm and a base that holds the telescope in position. Place the telescope on a table or on a similarly elevated platform and you are ready to go.
Tracking objects when observing with the telescope is very straightforward. It moves easily and smoothly on its bearings, allowing objects to be kept continuously in sight.
Accessories included
Two different eyepieces are come with the accessories, giving magnifications of 15x and 30x. The 1.25" focuser is a standard size in amateur astronomy and allows you to choose eyepieces from the huge range available in addition to those that come with the telescope. So an upgrade is possible at any time. A smaller scope is located on the side of the telescope. This is a 5x24 finder scope which you use to locate the objects you wish to observe in the main telescope assisted by the built-in cross-hairs.
A powerful telescope
The Sky-Watcher Dob 76/300 Heritage provides you with a powerful telescope which you can use for observing stars, planets and nebulae right away. This telescope does not need to be assembled or aligned. It has already been put together for you, so you can start using the heritage to show you the night sky on the very first evening suitable. The telescope is also very compact, so you can even take it with you on holiday. It is also a beautiful gift for children. It is a completely new experience to not just look at images of astronomical objects but to find them for yourself and to watch them 'live'.
Strike out on your journey to explore the universe!
The kit includes:
Telescope optical tube
Dobsonian mount
Super 10mm eyepiece, 1.25"
Super 25mm eyepiece, 1.25"
5x24 optical finderscope
User manual and warranty
Sky-Watcher Dob 76/300 Heritage Tabletop Telescope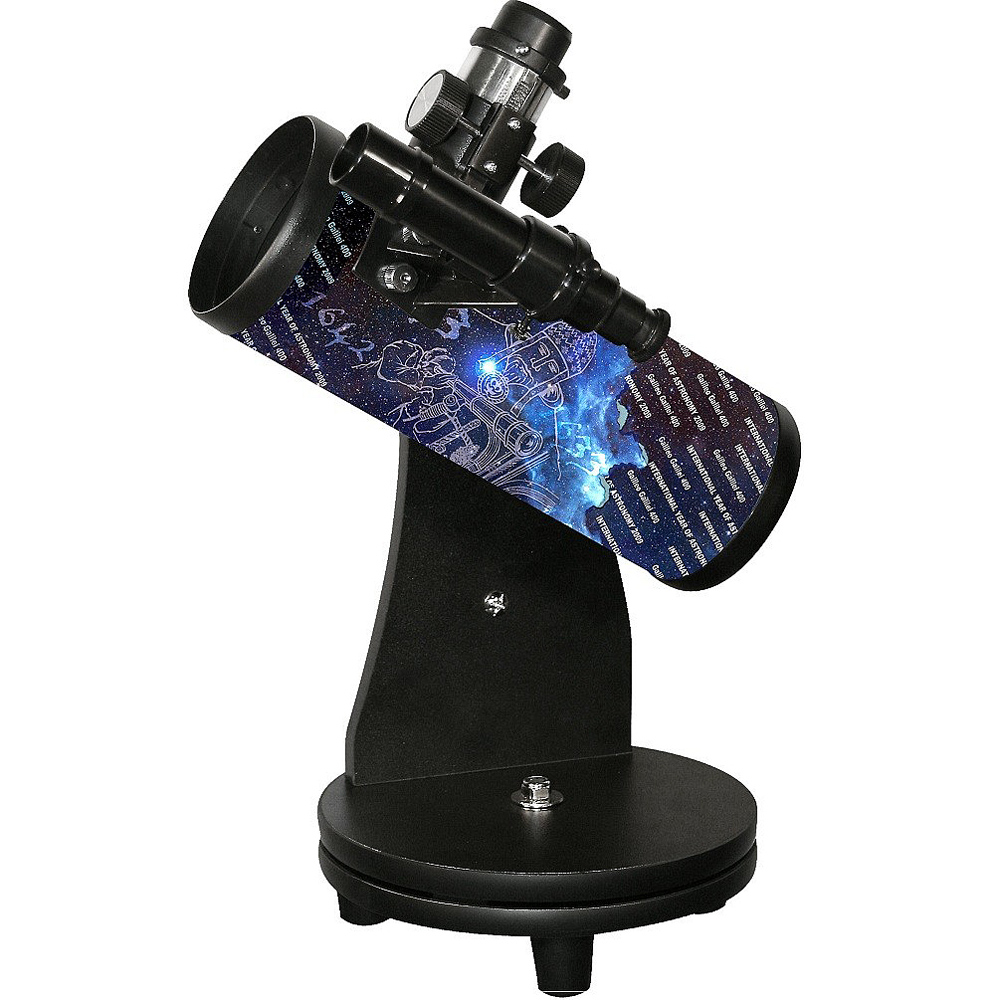 Sky-Watcher Dob 76/300 Heritage – a telescope for your journey out into the universe Is an adventure in outer space appealing? Then simply use the Sky-Watcher Dob 76/300 Heritage to go on a journey through our solar system. It will lead you past the Moon, to the gigantic planet Jupiter with its four large moons. Have a look at Saturn too – its ring system is definitely worth a trip. And after that? Space has even more to offer: discover nebulae located many light-years away, whether it's the Andromeda Galaxy or the Orion Nebula – a stellar nursery. Observing these also takes you into the past. But don't worry, you can return to Earth at any time! What do you need for this? Only a Sky-Watcher Dob 76/300 Heritage telescope! A small but powerful telescope Although the Heritage telescope is one of the smaller of its kind, all of the objects mentioned above can be seen. The Heritage is a Newtonian reflector with a mirror diameter of 76mm and a 300mm focal length. It gathers 117 times more light than the naked eye alone. Galileo Galilei looked into the night sky with a telescope over 400 years ago. But his telescope was nowhere near as good as this. So there is much more now available to see as 'just' the solar system. You can also now observe and admire so-called deep-sky objects – nebulae and star clusters. Set-up and getting started If you are new to astronomy, then the starting observing should be made as easy as possible. The Sky-Watcher Dob 76/300 Heritage is ideal in this respect. The telescope has a Dobsonian mount – an arm and a base that holds the telescope in position. Place the telescope on a table or on a similarly elevated platform and you are ready to go. Tracking objects when observing with the telescope is very straightforward. It moves easily and smoothly on its bearings, allowing objects to be kept continuously in sight. Accessories included Two different eyepieces are come with the accessories, giving magnifications of 15x and 30x. The 1.25" focuser is a standard size in amateur astronomy and allows you to choose eyepieces from the huge range available in addition to those that come with the telescope. So an upgrade is possible at any time. A smaller scope is located on the side of the telescope. This is a 5x24 finder scope which you use to locate the objects you wish to observe in the main telescope assisted by the built-in cross-hairs. A powerful telescope The Sky-Watcher Dob 76/300 Heritage provides you with a powerful telescope which you can use for observing stars, planets and nebulae right away. This telescope does not need to be assembled or aligned. It has already been put together for you, so you can start using the heritage to show you the night sky on the very first evening suitable. The telescope is also very compact, so you can even take it with you on holiday. It is also a beautiful gift for children. It is a completely new experience to not just look at images of astronomical objects but to find them for yourself and to watch them 'live'. Strike out on your journey to explore the universe! The kit includes: Telescope optical tube Dobsonian mount Super 10mm eyepiece, 1.25" Super 25mm eyepiece, 1.25" 5x24 optical finderscope User manual and warranty