Sky-Watcher Evostar BK ED100 OTAW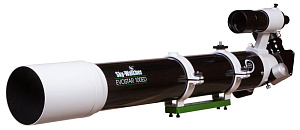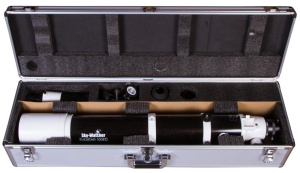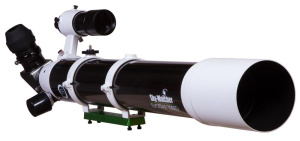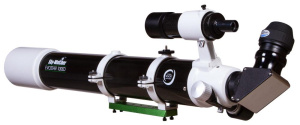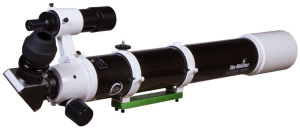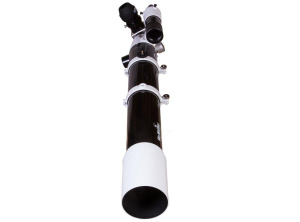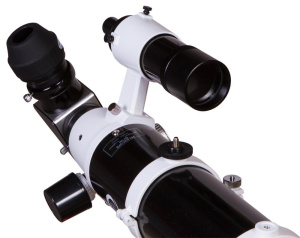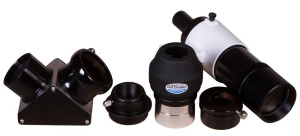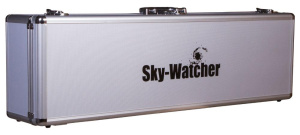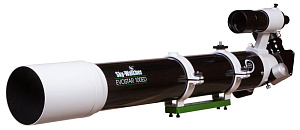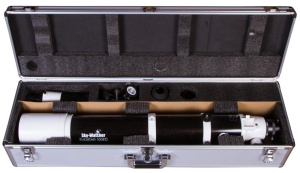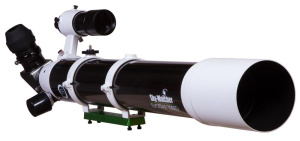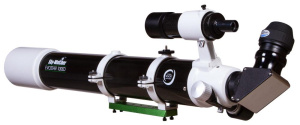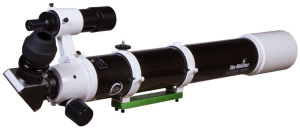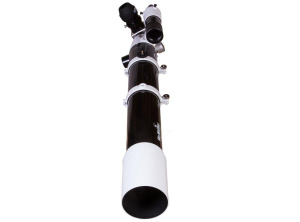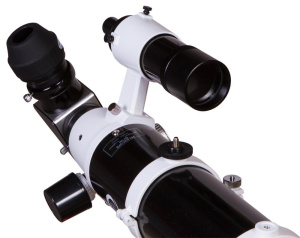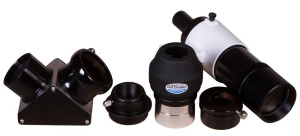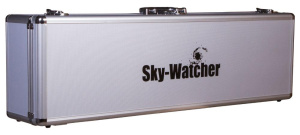 Apochromatic refractor optical tube. Aperture: 100mm. Focal length: 900mm
Fortunate indeed is the amateur astronomer with an Evostar BK ED100 refractor on a clear night with transparent skies and a stable atmosphere. Turning the telescope to the crescent moon, the Apennine Mountains snap into razor-sharp focus revealing a cornucopia of jagged mountain ridges, canyons, and numerous small craters in ultra-high definition. Not far removed, reaching skyward, the crater wall of Archimedes pops into view in bold relief against the smooth flatlands that transverse the distance between it and the Apennine Mountains. This is lunar observing at its best – HD style. The gas giant Jupiter displays its swirling equatorial bands in high-definition with festoons and tonality within the bands. The great spot is clearly visible, discreetly contrasted from the surrounding Jovian landscape. Prominent deep-space nebula yield improved definition in gaseous outer extensions. Stars in globular clusters resolve to pinpoints. This is just the beginning of an incredible journey of exploration possible with an Evostar BK ED100.
Metallic high-transmission lens coatings
Each air-to-glass lens surface has exotic anti-reflection metallic coatings applied to ensure optimum light throughput of approaching 99.5%. The proprietary Sky-Watcher "Metallic High-Transmission Coatings" (MHC) are the finest photon anti-rejection coatings in their class.
Light-baffled optical systems
The objective lens cell is light-baffled to reject stray, unfocused light. The draw tube is likewise baffled to optimum contrast. The tube interior is flat blackened to help prevent unfocused internal light reflections from reaching the focal plane.
Precision 2" dual speed Crayford focuser as standard
Optical focus is achieved by means of a mechanically ultra-smooth, backlash-free, precision 2" dual speed Crayford focuser-assembly. This focuser offers fine and ultra-fine focusing adjustments.
Tube materials
The optical tube material is rolled steel, powder-coated reflective gloss black with gold fleck accent. The front and back cells are aluminum painted white, or black.
Telescope tube attachment hardware
The optical tube comes with attachment hardware that allows it to be securely fastened to any Sky-Watcher mount. The quick-release tube rings provided with Evostar BK ED100 are cast-aluminum, painted white.
Included components for selected models
Evostar BK ED100 is supplied with backlash-free 2" dual speed Crayford focusers and quality foam-lined aluminum carrying cases as standard equipment.
The kit includes:
Optical tube with tube rings
8x50 optical finder scope
LET 28mm eyepiece, 2"
90° diagonal mirror, 2"
2"/1,25" adapter
Aluminum case
User manual and warranty
Sky-Watcher Evostar BK ED100 OTAW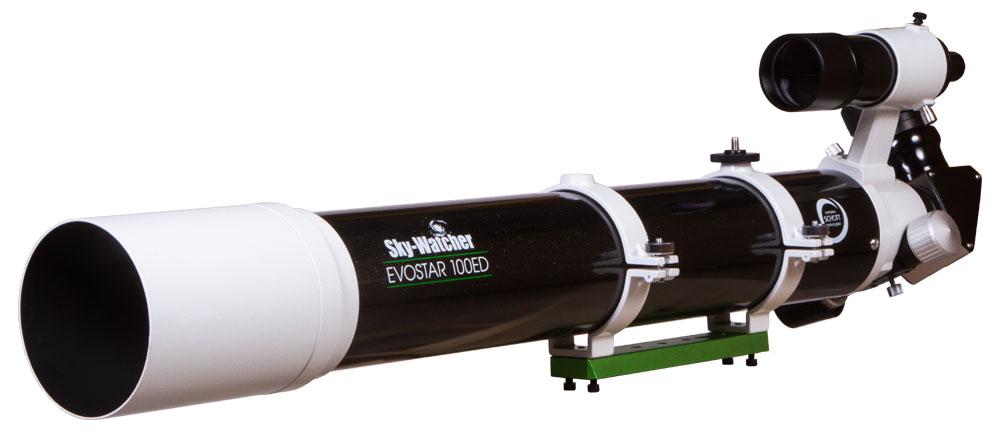 Fortunate indeed is the amateur astronomer with an Evostar BK ED100 refractor on a clear night with transparent skies and a stable atmosphere. Turning the telescope to the crescent moon, the Apennine Mountains snap into razor-sharp focus revealing a cornucopia of jagged mountain ridges, canyons, and numerous small craters in ultra-high definition. Not far removed, reaching skyward, the crater wall of Archimedes pops into view in bold relief against the smooth flatlands that transverse the distance between it and the Apennine Mountains. This is lunar observing at its best – HD style. The gas giant Jupiter displays its swirling equatorial bands in high-definition with festoons and tonality within the bands. The great spot is clearly visible, discreetly contrasted from the surrounding Jovian landscape. Prominent deep-space nebula yield improved definition in gaseous outer extensions. Stars in globular clusters resolve to pinpoints. This is just the beginning of an incredible journey of exploration possible with an Evostar BK ED100. Metallic high-transmission lens coatings Each air-to-glass lens surface has exotic anti-reflection metallic coatings applied to ensure optimum light throughput of approaching 99.5%. The proprietary Sky-Watcher "Metallic High-Transmission Coatings" (MHC) are the finest photon anti-rejection coatings in their class. Light-baffled optical systems The objective lens cell is light-baffled to reject stray, unfocused light. The draw tube is likewise baffled to optimum contrast. The tube interior is flat blackened to help prevent unfocused internal light reflections from reaching the focal plane. Precision 2" dual speed Crayford focuser as standard Optical focus is achieved by means of a mechanically ultra-smooth, backlash-free, precision 2" dual speed Crayford focuser-assembly. This focuser offers fine and ultra-fine focusing adjustments. Tube materials The optical tube material is rolled steel, powder-coated reflective gloss black with gold fleck accent. The front and back cells are aluminum painted white, or black. Telescope tube attachment hardware The optical tube comes with attachment hardware that allows it to be securely fastened to any Sky-Watcher mount. The quick-release tube rings provided with Evostar BK ED100 are cast-aluminum, painted white. Included components for selected models Evostar BK ED100 is supplied with backlash-free 2" dual speed Crayford focusers and quality foam-lined aluminum carrying cases as standard equipment. The kit includes: Optical tube with tube rings 8x50 optical finder scope LET 28mm eyepiece, 2" 90° diagonal mirror, 2" 2"/1,25" adapter Aluminum case User manual and warranty