Sky-Watcher MAK102/1300 StarQuest EQ1 Telescope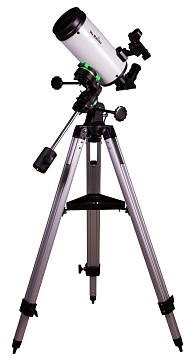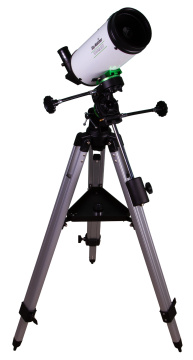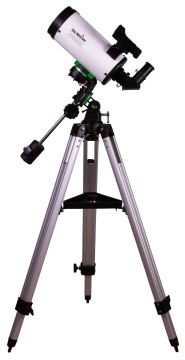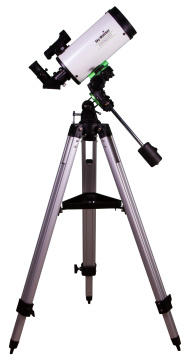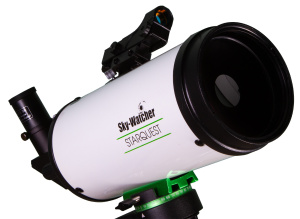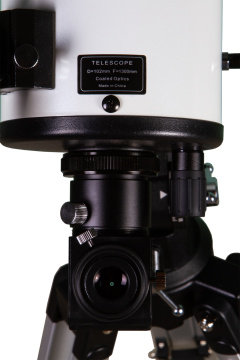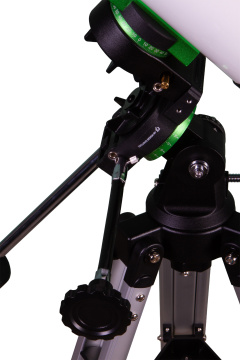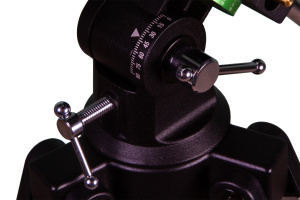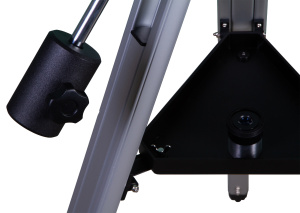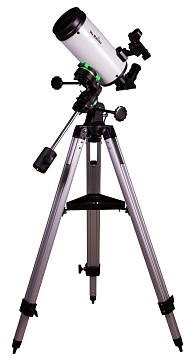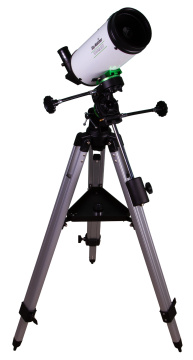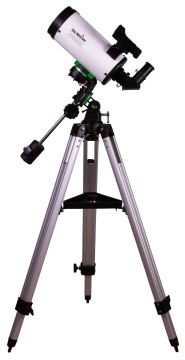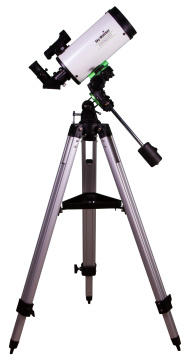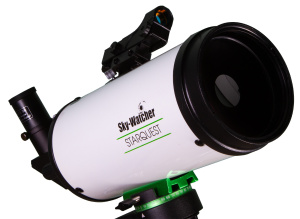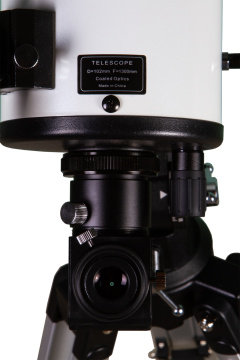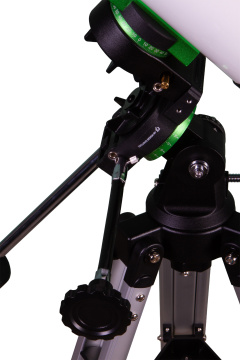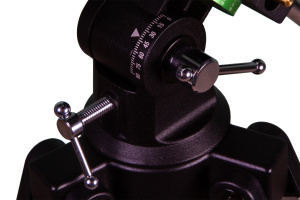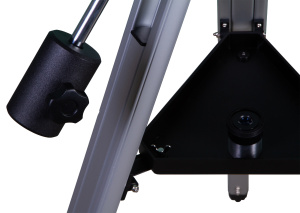 Maksutov-Cassegrain. Aperture: 102mm. Focal length: 1300mm
The Sky-Watcher MAK102/1300 StarQuest EQ1 Telescope is an ideal companion for trips and is suitable both for astronomy and for use as a reflector spotting scope for nature watching. This telescope is also super for letting children take their first steps in observing the night sky. The extremely compact design fits into virtually any hand luggage and is also known for the very high-contrast image it produces. Its 102mm aperture collects much more light than its 90mm little brother – the light collecting capacity is 212x more than the naked eye alone (for a 7mm exit pupil). Although the overall length is only 28cm, it has a long focal length of 1300mm resulting in an aperture ratio of f/12.7.
Astronomically, this telescope has had a lot to offer: with a resolution of 1.13 arc seconds, planets become beautiful objects to observe. Exploring deep sky objects such as the Orion Nebula or the summer Milky Way is also highly enjoyable. This telescope also provides an appropriately low priced alternative as a spotting scope for nature watching. Many classic spotting scopes only start to include adapters for use with a camera at the higher end of the market, at several hundred euros. This telescope is different: it comes with a large range of adaptations for nature photography included. The 1300mm focal length means that low cost bird photography is possible. The built-in T2 thread allows the simple connection of an SLR camera. And, for astrophotography, you can also take shots of the Moon for example. The focusing sharpness is set by adjusting a knob on the side which moves the primary mirror forwards or backwards. This type of focusing mechanism provides a large back focus, enabling a wide range of add-on options to be used.
The advantages in a nutshell:
Compact telescope with long focal length and 102mm aperture
High contrast image
1.25" connection with T2 thread
Nature watching and photography possible
The StarQuest mount is designed for small optics. It is equipped with two powerful clutches and contains precision gears each with a 122-teeth worm gear in both axes for high stability!
To use this mount one axis must be aligned parallel to the Earth's axis. To do this, you only need to know which way is north, and your latitude. A clear view of the pole star is useful, but not essential. This may sound a bit complicated, but don't worry: a rough alignment is perfectly adequate for visual observing. The big advantage is that you only need to turn one axis to compensate for the rotation of the Earth and thereby hold the celestial object in the eyepiece. In this way orientation by means of a star map is also much easier.
The tracking and also the fine adjustment of the object is carried out using the flexible shafts. For large pans across the sky the clamps on the axes can be loosened by the two very easy to use screws. Then the telescope can move freely.
The kit includes:
Telescope optical tube
10mm (1.25") eyepiece
25mm (1.25") eyepiece
90° (1.25") diagonal mirror
Red Dot finderscope
EQ1 equatorial mount
Slow-motion control knobs
Counterweight
Counterweight bar
Aluminum tripod
Accessory tray
User manual and warranty
Sky-Watcher MAK102/1300 StarQuest EQ1 Telescope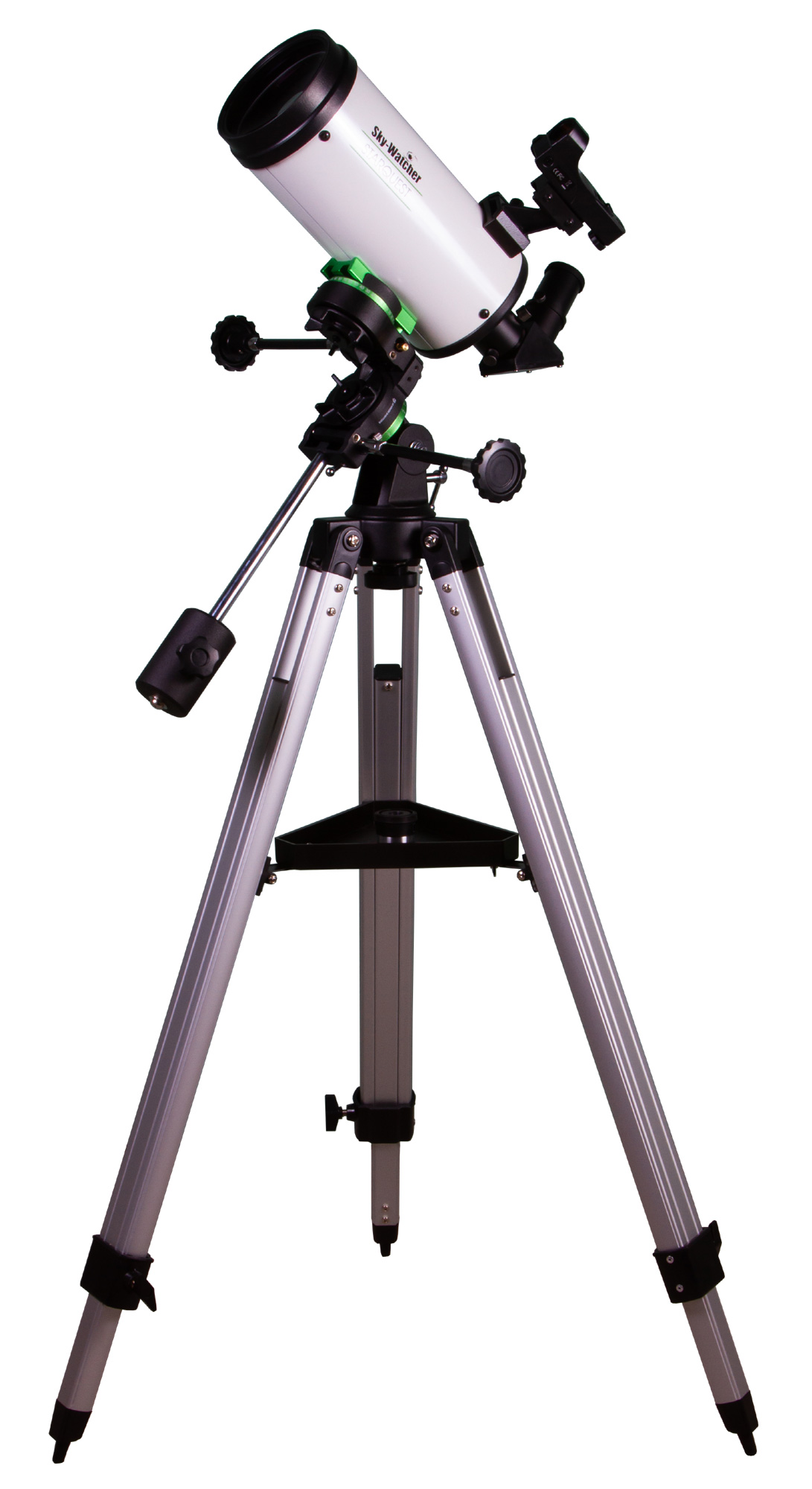 The Sky-Watcher MAK102/1300 StarQuest EQ1 Telescope is an ideal companion for trips and is suitable both for astronomy and for use as a reflector spotting scope for nature watching. This telescope is also super for letting children take their first steps in observing the night sky. The extremely compact design fits into virtually any hand luggage and is also known for the very high-contrast image it produces. Its 102mm aperture collects much more light than its 90mm little brother – the light collecting capacity is 212x more than the naked eye alone (for a 7mm exit pupil). Although the overall length is only 28cm, it has a long focal length of 1300mm resulting in an aperture ratio of f/12.7. Astronomically, this telescope has had a lot to offer: with a resolution of 1.13 arc seconds, planets become beautiful objects to observe. Exploring deep sky objects such as the Orion Nebula or the summer Milky Way is also highly enjoyable. This telescope also provides an appropriately low priced alternative as a spotting scope for nature watching. Many classic spotting scopes only start to include adapters for use with a camera at the higher end of the market, at several hundred euros. This telescope is different: it comes with a large range of adaptations for nature photography included. The 1300mm focal length means that low cost bird photography is possible. The built-in T2 thread allows the simple connection of an SLR camera. And, for astrophotography, you can also take shots of the Moon for example. The focusing sharpness is set by adjusting a knob on the side which moves the primary mirror forwards or backwards. This type of focusing mechanism provides a large back focus, enabling a wide range of add-on options to be used. The advantages in a nutshell: Compact telescope with long focal length and 102mm aperture High contrast image 1.25" connection with T2 thread Nature watching and photography possible The StarQuest mount is designed for small optics. It is equipped with two powerful clutches and contains precision gears each with a 122-teeth worm gear in both axes for high stability! To use this mount one axis must be aligned parallel to the Earth's axis. To do this, you only need to know which way is north, and your latitude. A clear view of the pole star is useful, but not essential. This may sound a bit complicated, but don't worry: a rough alignment is perfectly adequate for visual observing. The big advantage is that you only need to turn one axis to compensate for the rotation of the Earth and thereby hold the celestial object in the eyepiece. In this way orientation by means of a star map is also much easier. The tracking and also the fine adjustment of the object is carried out using the flexible shafts. For large pans across the sky the clamps on the axes can be loosened by the two very easy to use screws. Then the telescope can move freely. The kit includes: Telescope optical tube 10mm (1.25") eyepiece 25mm (1.25") eyepiece 90° (1.25") diagonal mirror Red Dot finderscope EQ1 equatorial mount Slow-motion control knobs Counterweight Counterweight bar Aluminum tripod Accessory tray User manual and warranty