Sky-Watcher Star Discovery MAK127 SynScan GOTO Telescope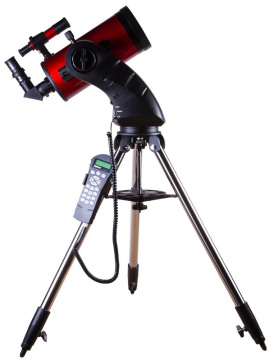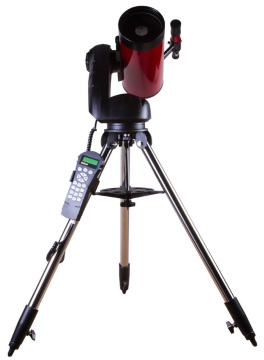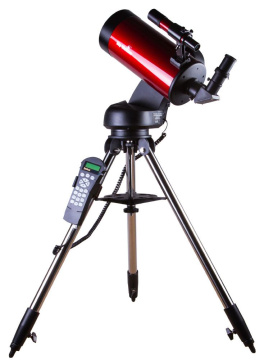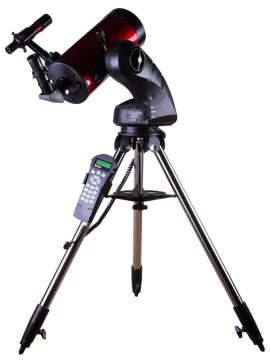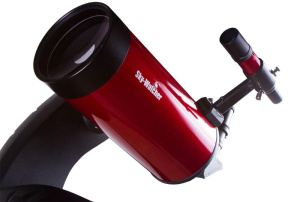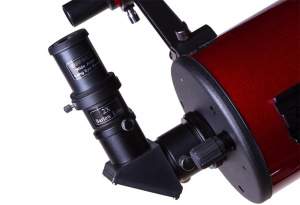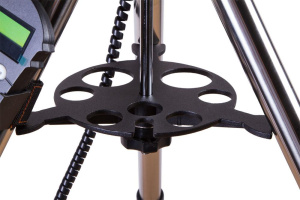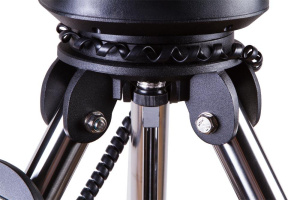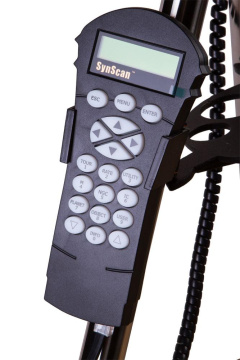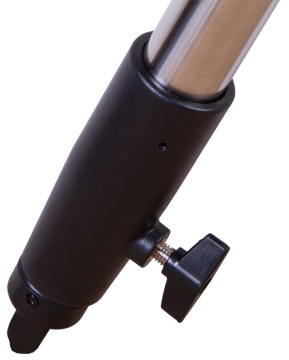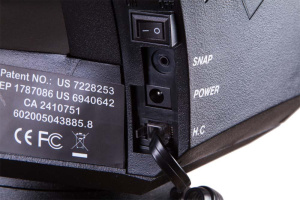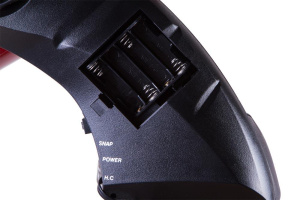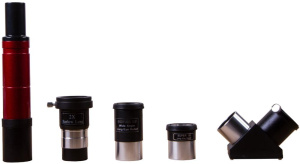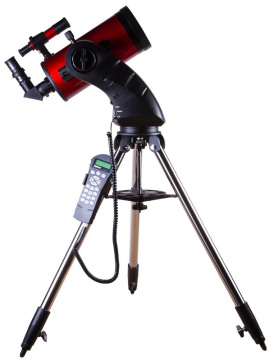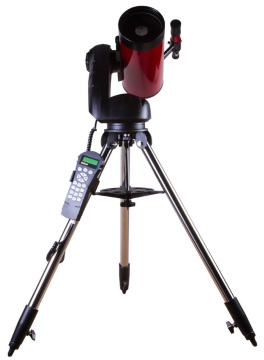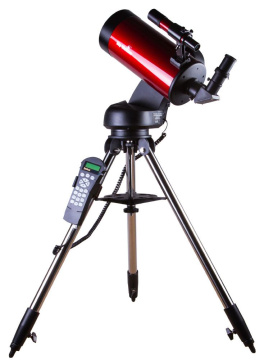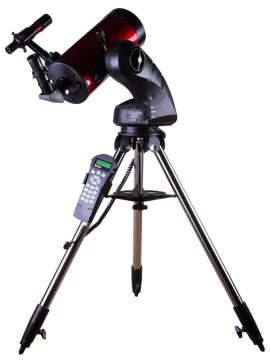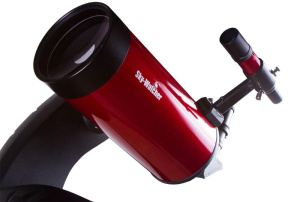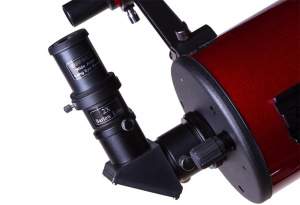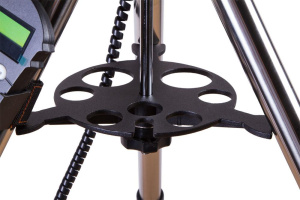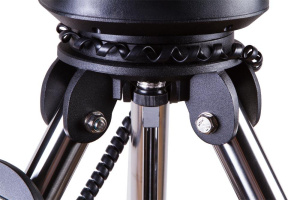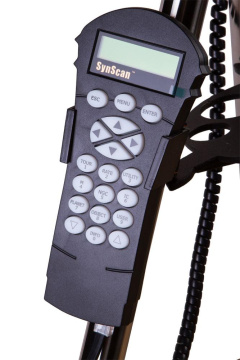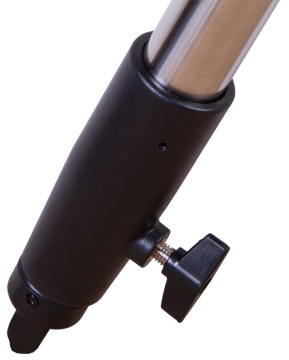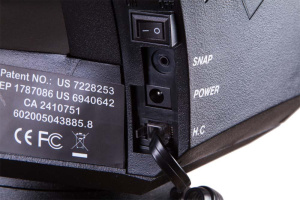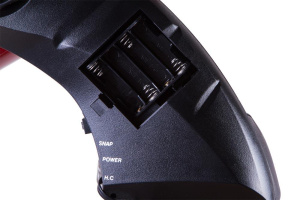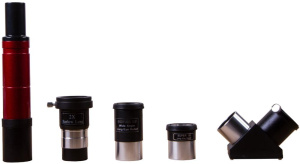 Maksutov-Cassegrain with GoTo function. Aperture: 127mm. Focal length: 1500mm
The Sky-Watcher Star Discovery MAK127 is a compact and powerful optical design that combines a front meniscus lens and two mirrors. The optical tube is closed by the front meniscus, keeping the mirrors protected from atmospheric agents such as humidity, dust and pollution. The tube is short but the focal length is long allowing high magnification with the standard eyepieces. With maximum practical magnification of 254x , this Sky-Watcher telescope will reveal details in Saturn's rings, Jupiter's bands, the Martian polar ice caps, and the phases of Venus and the moon.
The Sky-Watcher Star Discovery MAK127 is a fully automatic telescope ideal for beginners and those who want to get straight to observing. Aligning the mount takes mere minutes with the "Bright Object" alignment mode, and the computerised SynScan system is the ultimate upgrade that allows automatic pointing and tracking of more than 42,000 object in the sky! This means less time spent finding a faint nebula or a distant planet and more time to enjoy observing. Astronomy has never been so easy!
The Star Discovery mount is the upgrade of the Star Explorer, featuring the Freedom Find dual encoder technology. Once aligned, the telescope can be manually pointed anywhere in the sky without losing alignment, giving the user enormous freedom, convenience and flexibility during the observations.
Star Discovery mount features:
SynScan database with 42,900+ objects (NGC, SAO, IC and SAO catalogues)
One, two, three or brightest star alignment
Freedom Find dual encoder technology
Pointing Accuracy Enhancement feature (PAE)
Unknown object identification feature
Tracking rates: sidereal, lunar, solar
Slewing speeds: 1x, 2x, 16x, 32x, 64x, 128x, 400x, 500x, 600x, 800x
Astro time-lapse function
DSLR snap port (optional cable)
Compatible with Vixen style bars
Power requirement: 12V DC or AA batteries (not supplied)
In the box:
102mm Maksutov-Cassegrain
Star Discovery alt-azimuth GoTo mount
Stainless steel tripod with accessory tray
SynScan hand control
Eyepiece Super 25mm (60x) & Super 10mm (150x) – 1.25" barrel
2x Barlow lens – 1.25" barrel
90° star diagonal – 1.25" barrel
6x30 finderscope
RJ-RS232 cable
User manual
Sky-Watcher Star Discovery MAK127 SynScan GOTO Telescope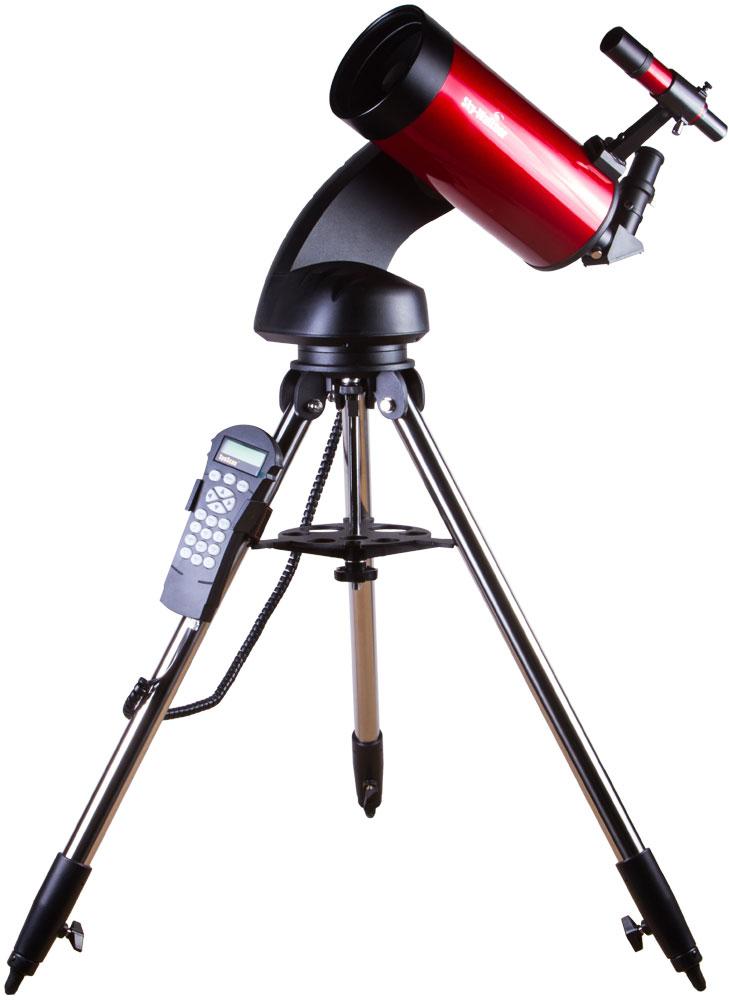 The Sky-Watcher Star Discovery MAK127 is a compact and powerful optical design that combines a front meniscus lens and two mirrors. The optical tube is closed by the front meniscus, keeping the mirrors protected from atmospheric agents such as humidity, dust and pollution. The tube is short but the focal length is long allowing high magnification with the standard eyepieces. With maximum practical magnification of 254x , this Sky-Watcher telescope will reveal details in Saturn's rings, Jupiter's bands, the Martian polar ice caps, and the phases of Venus and the moon. The Sky-Watcher Star Discovery MAK127 is a fully automatic telescope ideal for beginners and those who want to get straight to observing. Aligning the mount takes mere minutes with the "Bright Object" alignment mode, and the computerised SynScan system is the ultimate upgrade that allows automatic pointing and tracking of more than 42,000 object in the sky! This means less time spent finding a faint nebula or a distant planet and more time to enjoy observing. Astronomy has never been so easy! The Star Discovery mount is the upgrade of the Star Explorer, featuring the Freedom Find dual encoder technology. Once aligned, the telescope can be manually pointed anywhere in the sky without losing alignment, giving the user enormous freedom, convenience and flexibility during the observations. Star Discovery mount features: SynScan database with 42,900+ objects (NGC, SAO, IC and SAO catalogues) One, two, three or brightest star alignment Freedom Find dual encoder technology Pointing Accuracy Enhancement feature (PAE) Unknown object identification feature Tracking rates: sidereal, lunar, solar Slewing speeds: 1x, 2x, 16x, 32x, 64x, 128x, 400x, 500x, 600x, 800x Astro time-lapse function DSLR snap port (optional cable) Compatible with Vixen style bars Power requirement: 12V DC or AA batteries (not supplied) In the box: 102mm Maksutov-Cassegrain Star Discovery alt-azimuth GoTo mount Stainless steel tripod with accessory tray SynScan hand control Eyepiece Super 25mm (60x) & Super 10mm (150x) – 1.25" barrel 2x Barlow lens – 1.25" barrel 90° star diagonal – 1.25" barrel 6x30 finderscope RJ-RS232 cable User manual