Bresser PC Weather Station with 5-in-1 Outdoor Sensor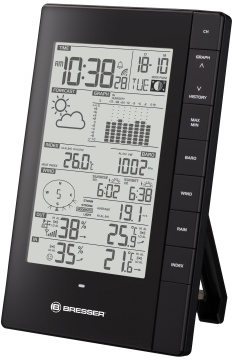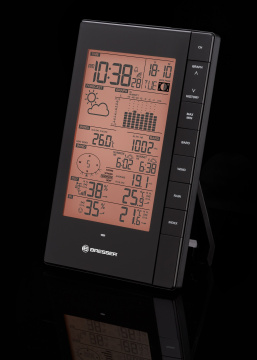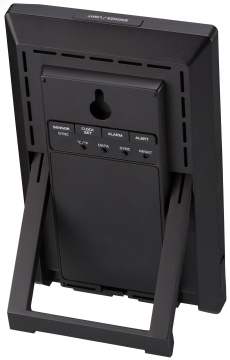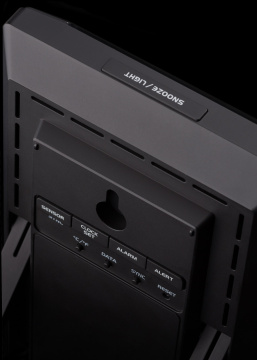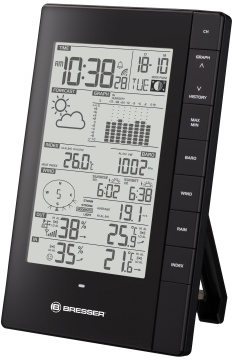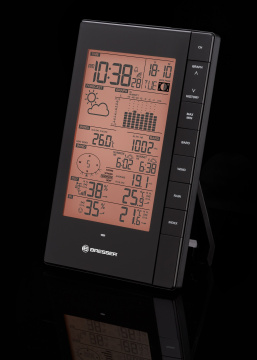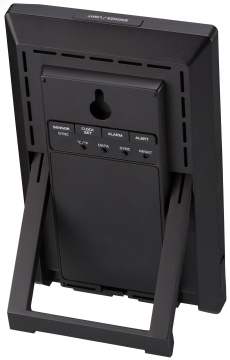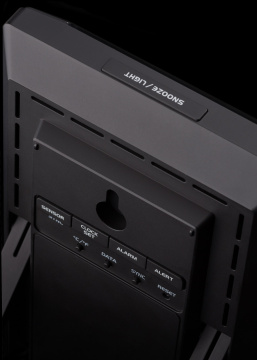 Weather station with humidity, temperature, wind speed and direction
This Bresser PC Weather station with 5-in-1 outdoor sensor offers you comprehensive weather information, which can be shared via PC software on apps. You also have the option to use the PC time synchronization and export data by USB cable.
The 5-in-1 outdoor sensor measures temperature, humidity, air pressure, wind direction and speed. Furthermore, the precipitation is measured and a bar chart for the rainfall of the last 7 days is displayed. This history data view also provides an overview of air pressure, temperature and humidity for outside and inside for up to 72 hours. There is a symbolic weather forecast for the next 12–24 hours. The different phases of the moon are also displayed.
You can set an alarm for maximum and minimum values as well as a time at which you want to be woken up. Use the snooze button to delay the alarm or to activate the backlight.
Features base station:
Comprehensive measurement and history data view
Indoor temperature (°C/°F) and humidity with comfort indication
Outdoor/Channel's temperature (°C/°F) and humidity readings
Can be connected via USB cable
Symbolic weather forecast for the next 12–24 hours
Barometric pressure in relative or absolute readings (hPa, inHg, mmHg)
Stylish display for time and detailed weather information
Wake-up/alarm function
Compact 5-in-1 outdoor sensor
Weather index for dew-point, wind chill, heat index
Publish local weather station data on "Weather Underground" and "Weathercloud"
Displays time, calendar, weekday, moon phase and sunrise & sunset
Gust or average wind speed
Wind direction (16-direction indicator)
Rain rate (hourly, daily, weekly, monthly, total rainfall)
7 languages for weekday (EN/ DE/ FR/ ES/ IT/ NL/ RU)
With suspension device and fold-out stand
Battery powered: 6x AA batteries (not included)
Supports a 5-in-1 professional weather sensor (included)
Supports up to 7 pcs thermo-hygro wireless sensors (optional, not included)
Features 5-in-1 outdoor sensor:
Transmission range up to 150m
Temperature, humidity, wind speed, wind direction, rain gauge
Battery powered: 3x AA batteries (not included)
The kit includes:
Main unit
Multisensor with mounting material
USB cable
Manual
Bresser PC Weather Station with 5-in-1 Outdoor Sensor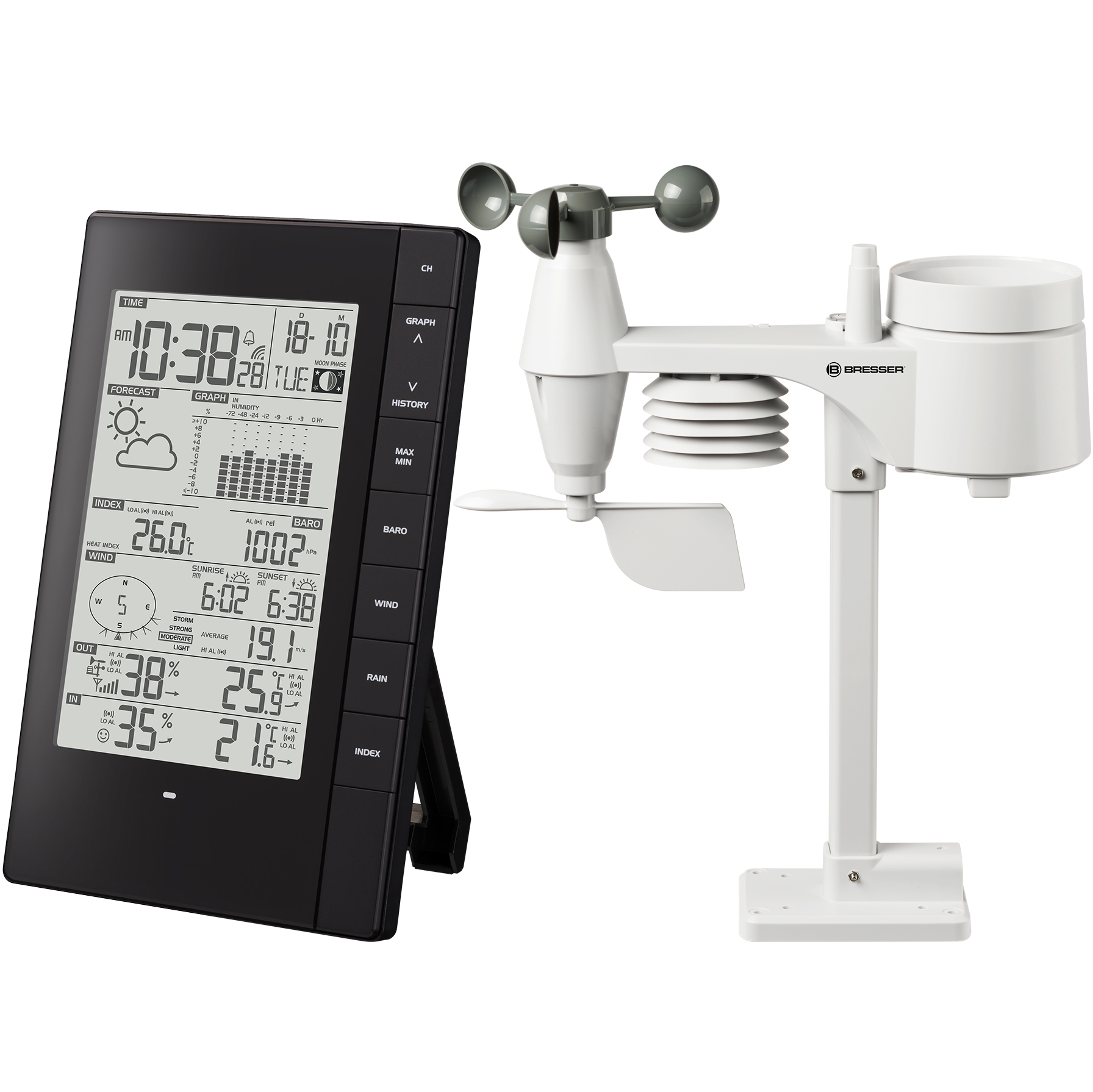 This Bresser PC Weather station with 5-in-1 outdoor sensor offers you comprehensive weather information, which can be shared via PC software on apps. You also have the option to use the PC time synchronization and export data by USB cable. The 5-in-1 outdoor sensor measures temperature, humidity, air pressure, wind direction and speed. Furthermore, the precipitation is measured and a bar chart for the rainfall of the last 7 days is displayed. This history data view also provides an overview of air pressure, temperature and humidity for outside and inside for up to 72 hours. There is a symbolic weather forecast for the next 12–24 hours. The different phases of the moon are also displayed. You can set an alarm for maximum and minimum values as well as a time at which you want to be woken up. Use the snooze button to delay the alarm or to activate the backlight. Features base station: Comprehensive measurement and history data view Indoor temperature (°C/°F) and humidity with comfort indication Outdoor/Channel's temperature (°C/°F) and humidity readings Can be connected via USB cable Symbolic weather forecast for the next 12–24 hours Barometric pressure in relative or absolute readings (hPa, inHg, mmHg) Stylish display for time and detailed weather information Wake-up/alarm function Compact 5-in-1 outdoor sensor Weather index for dew-point, wind chill, heat index Publish local weather station data on "Weather Underground" and "Weathercloud" Displays time, calendar, weekday, moon phase and sunrise & sunset Gust or average wind speed Wind direction (16-direction indicator) Rain rate (hourly, daily, weekly, monthly, total rainfall) 7 languages for weekday (EN/ DE/ FR/ ES/ IT/ NL/ RU) With suspension device and fold-out stand Battery powered: 6x AA batteries (not included) Supports a 5-in-1 professional weather sensor (included) Supports up to 7 pcs thermo-hygro wireless sensors (optional, not included) Features 5-in-1 outdoor sensor: Transmission range up to 150m Temperature, humidity, wind speed, wind direction, rain gauge Battery powered: 3x AA batteries (not included) The kit includes: Main unit Multisensor with mounting material USB cable Manual